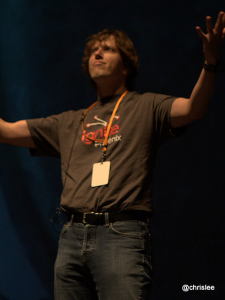 Wandering into a small improv comedy club to see a former coworker perform in his new-found and bizarre hobby, I was hooked. I joined the cast and performed in the Oxymoron'Z and was a founding member of the Jester'Z improv comedy troupe. It was a reawakening of my creative pursuits, leading to my becoming a Director in the Jester'Z, a writer and performer in the Dry Heat sketch comedy troupe, and a general citizen in the worlds of comedy, writing, and creativity.
Meanwhile, my "day job" at Intel had drawn me into the world of social media. I became fascinated with the way these tools let people connect, and how they were changing our culture both commercially and sociologically. Inside Intel I began using those social tools to exercise my creative writing and newfound love of entertaining. I became one of the most well known internal bloggers in Intel, and worked in both their internal and external social media programs. I also almost got myself fired more than once. Like most powerful tools, they'll hurt you if you're not careful.
Which brings me here. All these powerful technical and social tools are only as good as the content and people driving them. When it contains truly creative content, when it connects ideas in unexpected ways, and when it brings people together in real collaboration, incredible things happen.
Improv brings out the unexpected and the unplanned, while social media connects people in different and unstructured ways. Improv, games, comedy, crowds, memes… they're all connected.
This blog, and Improv Media, are an exploration of those connections… and anything unexpected that comes up along the way.
Here are some of the many projects I work on to that end. If you have more questions, please drop me an email.
Digital Publishing for Authors
Authors no longer need to reply on publishers to get their work in front of readers. I've partnered with Podiobooks.com founder and author Evo Terra to create tools, material, and workshops to help authors enter the digital age. We're exploring not just regular ebooks, but also the opportunities in multimedia, transmedia, and other emerging techniques. Our joint effort is called ePublish Unum.
Ignite Phoenix
When people are able to share their passions, amazing things can happen. Ignite Phoenix is a community event that lets regular people take the stage for 5 minutes and share the things that get them excited. Over 800 people attend Ignite Phoenix events to listen to the 18 speakers, discover local music, enjoy local food, and learn something new. There are over 200 Ignite Phoenix videos online, and thousands of pictures from the events. Talks at Ignite Phoenix have given people new business ideas, new careers, new inspiration, new friendships, and had a lasting impact on the Valley of the Sun.
Improv AZ – Pranks & Flash Mobs
Creating pranks and flash mobs across the Phoenix area to entertain people and bring a sense of fun to daily life. We fall into routines too easily, and giving people a taste of the unexpected not only makes them smile but hopefully helps them realize their routines can be broken any time they choose. Improv AZ has organized many events, including welcoming back a stranger at the airport, several No Pants Subway Rides, Epic Super Hero Battles, and a real life Where's Waldo enactment.
Social Media Club Phoenix
Social Media is not just about marketing, ROI, and eyeballs. It represents powerful ways to communicate that are changing daily. It shapes our ideas, our relationships, our politics, and our world. The Phoenix chapter of Social Media Club tries to look at the evolving face of social media in creative and compelling ways.
Phoenix Innovation Foundation
Sometimes good ideas can get mired down in paperwork, and the Phoenix Innovation Foundation (PIF) helps combat that problem. PIF acts as a business partner for people who have great ideas for Phoenix area educational activities, but are getting overwhelmed by the accounting, paperwork, insurance, and other tactical items necessary to make their events happen. An Arizona and Federal non-profit (501(c)3) PIF can handle sponsorship money, contract with vendors, and supply information and expertise to make events a success. PIF has worked with Ignite Phoenix, TEDx Phoenix, Pecha Kucha, PodcampAZ, and Cupcake Love In to name a few.
Le Old School Bio
Jeff Moriarty has a degree in Computer Science from Arizona State University, and has worked the spectrum from running his own software company, to assessing information security issues, to performing improv comedy, to managing social media communities for the Intel Corporation. Jeff helped develop and implement the internal Social Media strategy for Intel employees, and worked as the Community Manager for the external developer site supporting Intel's mobile products. Jeff also worked as the Director of Social Media Strategy at Sitewire, a Tempe based digital marketing agency. He is extremely active in the Phoenix social media community, and in addition to helping chair the Phoenix Social Media Club, he is one of the founders of Ignite Phoenix, ImprovAZ, and the Phoenix Innovation Foundation. His versatile background and practical enterprise experience gives him a unique perspective on the social media challenges facing everyone from individuals to large businesses.